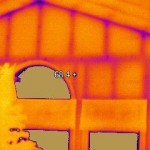 Energy costs are getting higher everyday with no end in sight.  How would you like to optimize your homes energy efficiency with common sense recommendations based on the facts.  Yes, we can show you exactly were you are losing heat and wasting resources and most importantly; your money.
We can do a blower door test to your home and show you costly leaks with thermal imaging and how to easily make it better.
CUT YOUR BILLS AND MAKE THE CASTLE MORE COMFORTABLE!!!!!